Marketing Partner Spotlight- Lincoln Electric
117 Years of Excellence
Lincoln Electric's tradition of innovative solutions, technological leadership and commitment to customers, employees, and shareholders stems from the vision of its founder, John C. Lincoln and his brother, James F. Lincoln.
The Lincoln Electric Company was founded in 1895 and today is the world leader in the design, development and manufacture of arc welding products, robotic welding systems, plasma and oxyfuel cutting equipment. Headquartered in Cleveland, Ohio, Lincoln has 42 manufacturing locations, including operations and joint ventures in 19 countries and a worldwide network of distributors and sales offices covering more than 160 countries. Lincoln has a global work force of more than 9,000.
Recognized as the welding experts®, the Company provides leading technology products and solutions. From its early beginnings, Lincoln pioneered technological advancements and improvements in arc welding consumables and equipment. Lincoln sustains the industry's most dynamic and comprehensive research and product development program. This effort is supported by the David C. Lincoln Technology Center, the most advanced facility of its kind.
Arc welding is indispensable to many industries. For example, the metal working field involves production arc welding in transportation, construction, fabrication, petrochemical and other industries. In the manufacture of metal products, arc welding applications range from producing consumer appliances to fabricating heavy machinery and structural steel. Arc welding is the dominant joining method for building and other industrial construction, including oil and gas pipeline fabrication, and oil refinery construction.
The Company is famous for its productive and highly-skilled work force, as well as its unique compensation system, Incentive Management. Incentive Management is widely studied in business schools and industrial management circles. The system compensates and encourages individual and team initiative and responsibility at all levels of employment within the U.S. subsidiary. Lincoln's other global operations have their own systems, where appropriate and practical. Lincoln has never experienced a work stoppage in its 100-plus year history.
"Lincoln Electric's superior welding products is an invaluable tool and partner in everything we build at the shop!"- Bobby Alloway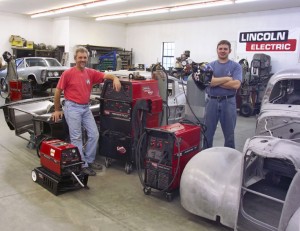 This entry was posted on Friday, July 13th, 2012 at 4:37 pm