Archive for November, 2013
Tuesday, November 19th, 2013
Here are the beginning pics oh the baddest El camino to hit the streets. This car has a Art Morrison clip graphed in the front it has 19 and 22 wheels by billet specialties. Stay tuned for more updates.
Posted in 1959 El Camino | 2 Comments »
Tuesday, November 19th, 2013
The 1962 Chevrolet Impala Convertible its Brillant silver by PPG with a beautiful red leather inter. A 502 big block to appear as a 409 just bigger with a 5 speed trans.
Posted in 1962 Chevrolet Convertible | 7 Comments »
Tuesday, November 19th, 2013
Here it is the 1951 Chevrolet Fleetline that has now a new name Fineline! This car is on a Art Morrison chassis with custom 17 and 20 billet specialties wheels. A built 409 with over 500 cubic inches now. A 5 speed to back it up and of its all PPG black
Posted in 1951 Chevrolet Fleetline | 2 Comments »
Thursday, November 7th, 2013
2013 SEMA Show
If you're attending this year's SEMA Show, stop by the PPG Automotive Refinish exhibit located  in the Central Hall of the Las Vegas Convention Center Booth# 24501. Bobby Alloway of Alloway's Hot Rod Shop will be appearing daily for a meet and greet of automotive enthusiasts attending the show. Also while at the show, check the latest builds from the shop! The 1962 Chevrolet Impala Convertible will debut in the HRIA Booth located in Hot Rod Alley! A brand new project will be unveiled on Tues morning at 11AM in the HRIA Booth as well. Bobby Alloway appearance times are as follows:
PPG Automotive Refinish Booth #24501
Tuesday Oct. 30th 2:30-3:30PM
Thursday Nov. 1st 11AM-12PM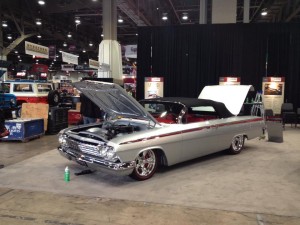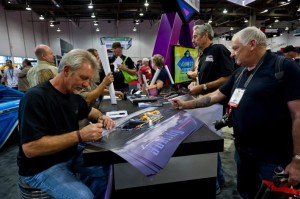 Posted in News | 1 Comment »