Archive for July, 2012
Friday, July 13th, 2012
Columbus, OH – Pennsylvania's Gary Bowers and Georgia's Dave Walsh drove off with the top two awards at the Goodguys 15th PPG Nationals in Columbus, Ohio. Braving record hi temperatures, Bowers' bright orange '65 Mustang won the Goodguys 2012 Optima Batteries Street Machine of the Year crown while Walsh's jet black '32 Ford Victoria collected the Goodguys 2012 Classic Instruments Street Rod of the Year title.
The two cars encapsulate perfectly the current state of the hot rodding world. Bowers' hi-tech, ground hugging Mustang, built by Ringbrothers represents the latest in track-ready, show-quality super muscle cars while Walsh's Victoria, built by Bobby Alloway represents the time-tested appeal of a smoothed out early Ford.
Well known for their ability to transform Mustang's into modern masterpieces, the Ringbrothers have set the bar even higher with the Bowers '65 named "Producer." The body was widened four inches (two inches on each side rather than cut down the middle), the rockers are extended, there's a full belly-pan underneath and both the hood and roof are carbon-fiber – signature Ringbrothers touches. Under the hood is high compression Keith Craft-built 427 cubic inch stroker based on the 351 Windsor small block making 740hp crank horsepower. The matt finish three-piece wheels designed by Ringbrothers were built by Forgeline. Baer Brakes, Afco shocks and a suspension consisting of front tubular A-arms and a Watts link set up in the rear give it razor sharp handling. The car gets its name from Bowers' Waynesburg, Pennsylvania based Producer Supply Company.
While Producer gives a glimpse of the future, Dave Walsh's '32 Vicky is a timeless beauty with a rich and smooth PPG Deltron black coat, sitting just right on an Alloway chassis. The signature Alloway big & little polished wheels were cut by Billet Specialties and the car gets its perfect rake courtesy of Pete & Jake 4 bar suspension with a 5-inch dropped axle. The So Cal Speed Shop functional fake's offer a nostalgic flare but there's nothing vintage about the thumping 502-inch big block mated to a Tremec 5 speed. Inside the cabin is a painted burl wood dash with garnish molding and a custom leather interior by Steve Holcomb's Pro Auto.
For their victories in Columbus both Bowers and Walsh will receive customized toolboxes from Snap-on as well as travel accommodations to the Goodguys 15th Southwest Nationals November 16-18 to exhibit in the "Champions Arena."
The top five finalists for the Goodguys 2012 Optima Batteries Street machine of the Year award were Dave Leisinger, Wall Lake, SD  (1971 Camaro), Dana Irvin, Cypress, TX (1965 Mustang), Steve Keefer, Brentwood, CA  (1969 Camaro) and Dale Boesch, Humphrey, NE (1969 Camaro) and Gary Bowers, Waynesburg, PA (1965 Mustang).
The top five finalists for the Goodguys 2012 Classic Instruments Street Rod of the Year award were Gary Crawford, El Dorado, KS (1940 Chevy), Pete Datino, Valhalla, NY (1932 Ford Coupe), Joe Stuban, Naples, FL (1937 Ford Coupe), Dave Walsh, Macon, GA  (1932 Ford Victoria), William Shores, Concord, AL (1932 Ford Roadster) and Dave Walsh, Macon, GA  (1932 Ford Victoria).
Posted in News, Past builds, Shop Updates | No Comments »
Friday, July 13th, 2012
117 Years of Excellence
Lincoln Electric's tradition of innovative solutions, technological leadership and commitment to customers, employees, and shareholders stems from the vision of its founder, John C. Lincoln and his brother, James F. Lincoln.
The Lincoln Electric Company was founded in 1895 and today is the world leader in the design, development and manufacture of arc welding products, robotic welding systems, plasma and oxyfuel cutting equipment. Headquartered in Cleveland, Ohio, Lincoln has 42 manufacturing locations, including operations and joint ventures in 19 countries and a worldwide network of distributors and sales offices covering more than 160 countries. Lincoln has a global work force of more than 9,000.
Recognized as the welding experts®, the Company provides leading technology products and solutions. From its early beginnings, Lincoln pioneered technological advancements and improvements in arc welding consumables and equipment. Lincoln sustains the industry's most dynamic and comprehensive research and product development program. This effort is supported by the David C. Lincoln Technology Center, the most advanced facility of its kind.
Arc welding is indispensable to many industries. For example, the metal working field involves production arc welding in transportation, construction, fabrication, petrochemical and other industries. In the manufacture of metal products, arc welding applications range from producing consumer appliances to fabricating heavy machinery and structural steel. Arc welding is the dominant joining method for building and other industrial construction, including oil and gas pipeline fabrication, and oil refinery construction.
The Company is famous for its productive and highly-skilled work force, as well as its unique compensation system, Incentive Management. Incentive Management is widely studied in business schools and industrial management circles. The system compensates and encourages individual and team initiative and responsibility at all levels of employment within the U.S. subsidiary. Lincoln's other global operations have their own systems, where appropriate and practical. Lincoln has never experienced a work stoppage in its 100-plus year history.
"Lincoln Electric's superior welding products is an invaluable tool and partner in everything we build at the shop!"- Bobby Alloway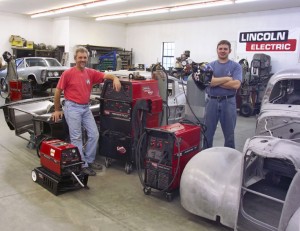 Posted in Marketing Partners | 5 Comments »
Wednesday, July 4th, 2012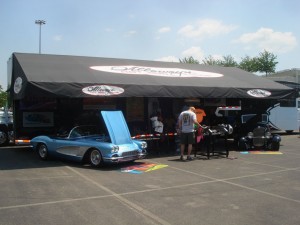 The second show of our 2012 season happens this weekend July 6-8 at the 15th Goodguys Hot Rod Nationals at the Ohio State Fairgrounds in downtown Columbus, OH! While at the show stop by the trailer located on the manufacturer's midway to see the latest creations from the shop! For more information please check out the link:
https://www.good-guys.com/?p=3094&option=com_wordpress&Itemid=220
Posted in News | 1 Comment »